2022 John West National Féile
2022 John West National Féile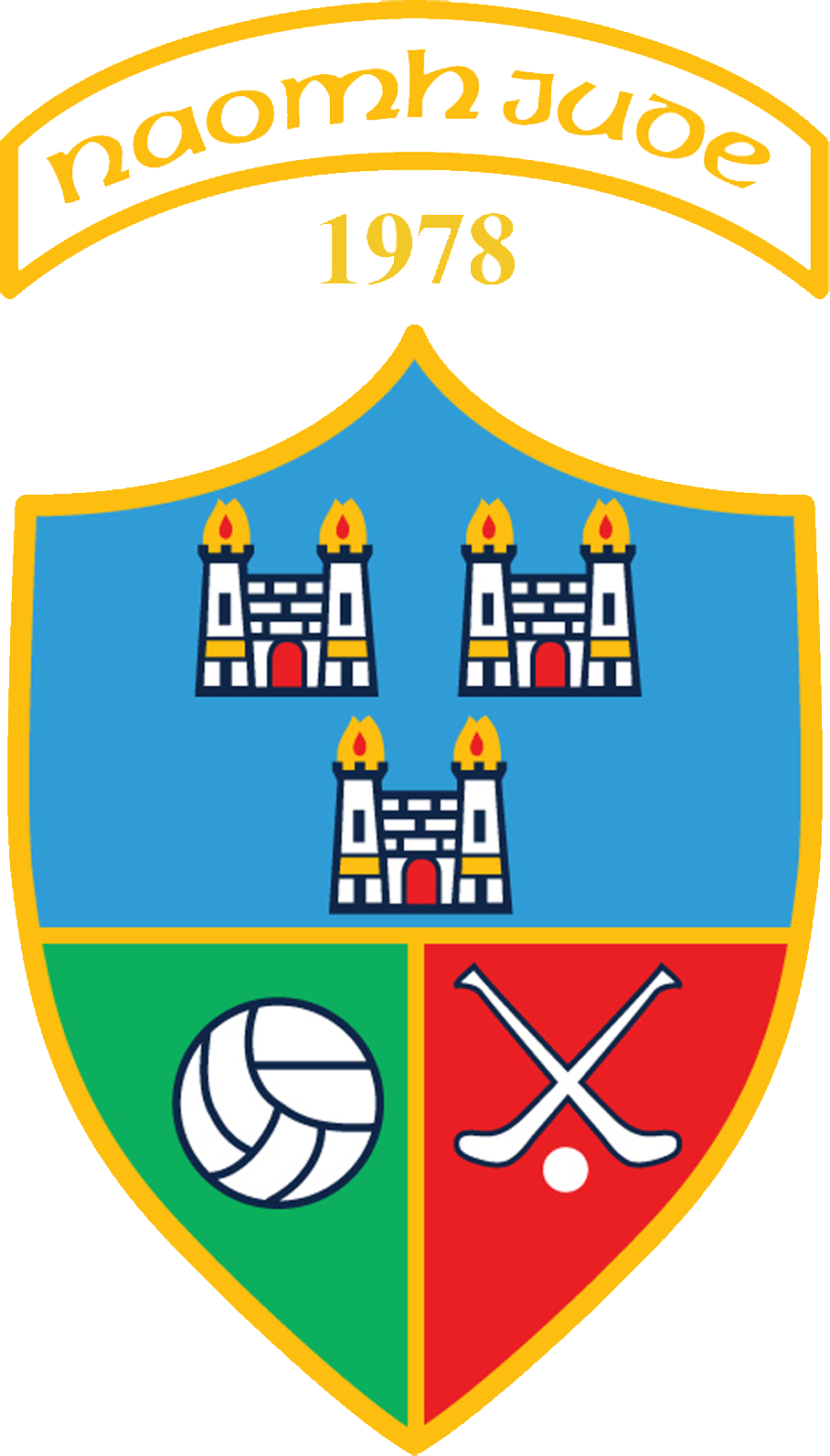 2022 John West National Féile – July 02nd 2022 Venue St Judes GAA Club
Our History Makers……….
St Judes U15s made history for the club in winning the All Ireland Féile Shield trophy on Saturday 2nd July. The club enjoyed hosting the tournament in Tymon Park and parading our new pitch. The players and coaching staff would like to doff their hats to the organising committee. A special mention to all the aspiring "Mrs. Doyles" who made the plentiful supply of sandwiches.
St Judes 6-8 Naas 0-4
They say you need to be a "lucky general" but there was no luck in the first goal straight from the throw in which was a pre-ordained well executed plan perfected on the training ground courtesy of the Alex Hasset training manual. Luke McNiff fisted the ball to Tim Grace, who hand passed the ball to Ryan Laing who sublimely kicked the ball to Hugh O'Neill who carried the ball 30 yards before finding the corner of the net. The game was over after 30 seconds. Goals followed from Billy Shouldice, Oisin Costello, Tim Grace, Thomas Tisdall and Jack Durkan.
St Judes 0-5 Claregalway 4-10
Judes luck ran out in having to play a second match in quick succession against a fresh Claregalway team. Claregalway had the advantage of seeing Judes play and used devastating pace to set up two early goals. Two points from play from Hugh O'Neill kept Judes in the game before unforced errors saw Claregalway blitz the Judes defence with 2 further goals killing the game as a contest. Due to the shorter game, Judes players jettisoned their famed composure, making poor shot and passing selections.
Shield Semi Final
St Judes 2-8 v Ballinascreen 1-6
The Dublin County champions wasted no time in rebounding from the aberration that was the Claregalway match. Incredibly, they repeated their training ground trick culminating with another Hugh O'Neill goal straight from the throw in. This set the tone for the match, as Ballinascreen, conquerors of Boden in the group stage, proved no match for a Judes team intent on redemption. A further goal form Oisin Costello and points from Baraka "Baz" Kamara, Luke McNiff, Jack Durkan and Billy Shouldice saw Judes ease to a deserved victory.
Shield Final
St Judes 0-8 v St Peters 0-3
Extra guile, superior fitness and the strength of the bench saw Judes score 8 unanswered points in a second half 7-minute blitzkrieg that ensured Judes emerged as
All Ireland Division 1 shield champions. St Peters showed better composure in the first half to lead 3 points to no score as poor shot selection returned to haunt Judes. Patrick Fleming made two outstanding saves in the first half to keep Judes in the game. Judes controlled the second half with Cathal Martin orchestrating the pivot. Eoghan O'Donnell carried the ball at pace and sub Joe Plunkett added a fresh impetus to the attack. Judes continued to miss chances before points from Luke McNiff, Paddy Keighran, Oisin Costello, Thomas Tisdall, Joe Plunkett and Hugh O'Neill sealed St Peters fate. Score of the match was Joe Plunket's thirty-yard point which helped to calm Judes nerves and was met with huge applause from the jubilant Judes fans. The Cavalcade at the Supervalu roundabout all the way to the club was no more than this team of history makers deserved. Judes Abú.
Presentation of the Shield to St Judes Captain Ryan Laing by National Féile committee chair, Diarmuid Cahill
Ronan O Neill
Our Visitors……….
St Judes were delighted to welcome to Tymon Park our visitors on the day.
Naas GAA
Ballyboden St Enda's GAA
Douglas GAA (Plate Winners)
Ballinascreen GAA
Claregalway GAA (Cup Winners)
Acknowledgments
The weekend will live in these boys' memories for years to come, and we would like to thank those who made this possible.
To our Féile committee, a huge thank you to the parent group Siobhan Laing, Denise McGreal, Aileen Bagnall, Maurice Ebbs, Felicity McNiff, and Neil Cashin, Jen Falvey & Liam Fahy (from our juvenile committee).
To the St Judes executive committee for their support and assistance, making sure the club and pitches looked their best and providing some hot and cold food which was all greatly appreciated.
To the National Féile committee for putting together this fantastic juvenile tournament, and for all assistance given.
To our pitch supervisors, Niall Turner & Merv O'Boyle
To our score keeper and adjudicator Liam Fahy (and his assistant Senan)
To our referee coordinator and general do whatever was needed! Colm Gough
To our referees Dave O'Donovan, Shane McDonnell & Craig McKeown
To our match umpires Mick O'Brien & Sean O'Loughlin.
To our photographer Mick Moran.
To our 2006 parents & teenagers who assisted Liam & Maurice with pitch set up, gazebo set up, litter collection and chair carrying!
To our welcome committee Rachel Thornton, Anne Fleming & Neil Cashin.
To our hall manager Denise McGreal & her many helpers with set up Fri evening, cleaning and feeding the masses.
To our team minders Aileen Bagnall, Sile Grace, Fiona Maloney, Maura Martin and Maurice and his piper Eamonn Walsh.
To our programme creator Siobhan Laing, a lovely memento for the lads. Our programme sponsors in particular DMG transport.
To our 'sprinting medic & all-around mammy for the day' Anita Monaghan, our physio for the day Sinead Tobin and Medicare Daniel Smith.
To our car park supervisors Sean Fallon, Stephen Willoughby, Conor Durkan, Jimmy Harlow, Jim Falvey & Pat Finn
To Tadgh O'Connor for all the signs dotted around Tymon.
To BalloonsbyEimear who brought the colour!
To our jersey, féile kit & kit bag sponsors, CJ Fallon, Liffey Valley, Glenhaze, DMG transport & Dynamic Leadership Development.
To all the supporter's nana's, grandads, aunties, uncles, cousins, neighbours & friends who came out to Tymon & Abbottstown to cheer our lads over the line.
To all the parents who bought into months of the féile experience and came up trumps with whatever was needed.
To our coaches who bring the commitment & passion & many years of experience! Colm Costello, James Durkan, Ronan O'Neill, Austin Tisdall & Colin Laing and to the mastermind Alex Hassett. To our B coach Colly Fitz who was on hand all day.
To the St Judes senior players, what a nice touch to speak to and congratulate our lads on their great win!
And to the 28 lads who wore the Judes jersey throughout the féile journey with pride and gave everything they had on the pitches with the highest standard of skill and sportsmanship on display, we are all immensely proud.
'It takes a village to raise a child' - Thank You to the St Judes village.
Caroline Costello & Jackie Keighran